Founder & Country Director
Fazeelat Mazhar is an Electrical Engineer from University of Engineering and Technology Lahore, Pakistan and currently doing MS (EE) from the same institute. She have been working as a Lab Engineer at FAST NUCES Chiniot Faisalabad Campus. During this period, she fully exploited her technical skills by organizing a number of project exhibitions and technical competitions in nationwide events. Her motivation comes from her love for robotics and algorithm designing that compelled her to create awareness about this field by giving hands-on experience to the students of the country.
By initiating Devoxx4kids Pakistan Chapter, she would be able to revive and promote the technology landscape among the youngsters of the country. This will enhance their exposure level resulting in revelation of brilliant talent in a frequent and intense manner.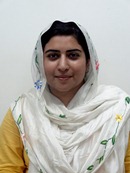 Program Manager
Maria Maqsood is an Computer Scientist working as a lecturer at FAST NUCES Chiniot Faisalabad Campus. She owns a degree of MS (CS) in Research Agile Methodologies Software Engineering from FAST NUCES Islamabad.