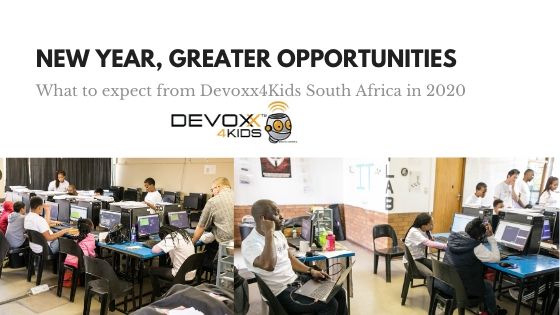 2019 was a great year for Devoxx4Kids South Africa. Not only did we do activities that was outside of our norm, we also held our very first event in the city of Cape Town!
Just to highlight of what transpired in 2019:
27 April 2019, we held our very first even in Cape Town (thanks to Codebridge Cape Town for hosting us, twitter: @codebridge).
Here's the video we have made to highlight what we've been doing in Cape Town:

28 September 2019, we tried something that we were told that it's not child's play: We introduced Java to kids. The result? You will have to watch the YouTube video that we have made.

We couldn't be more proud of the response and support that we received for each event and for the parents and volunteers who have made each past events possible.
So what's in store for 2020?
Firstly, we are pleased to announced that Devoxx4Kids South Africa is officially a registered Non-Profit Company (registration Number: 2019/518166/08) and a registered Non-profit Organisation (registration number: 241-758 NPO), according to the Non-Profit Organisation Act of 1997. This allows us to seek funding for our workshops as well as reach more children to introduce them to programming and robotics, particularly in underprivileged area.
We are finalizing this year's event calendar. As soon as it's finalized and approved by our directors, we will let you know.
Also, we will also let you know how you can donate to our cause (it doesn't necessarily mean donating money. We are working on the sponsorship list that we will publish and the channels of how you can help with the donation.
For now, we are all excited and ready to roll. We can't wait to visit your city and have fun programming with the kids of 2020!
Take care and, as always, may God richly bless you all.
Kind Regard,
The Devoxx4Kids Team