This year, the biggest Oracle Conference (JavaOne and Oracle Open World) hosted a combined Devoxx4Kids/Oracle Academy event (JavaOne Kids Day) in San Francisco, on the Saturday before the official kickoff of JavaOne 2014.
136 children (43% girls, 57% boys) attended the event (amongst the 151 registered in total), happy to be able to learn, in a very fun way, programming concepts and apply them in various workshops.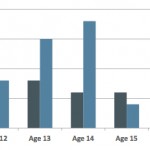 Alice, Greenfoot, Internet of Things (Arduinos, Raspberry PIs), Lego Minstorms, Minecraft modding, NAO Humanoid Robot, Python and Scratch (combined by LeapMotion devices) workshops were all appreciated by the children. Some of them, even knowing already the tools/games, were excited by the additional dimension brought to them by the workshops.
Children really impressed the team by showing great capabilities in expressing their imagination in extending the proposed exercices with additional features.
Some others, naturally, started to work in pairs, having even more fun by exchanging impressions and ideas in the group in order to achieve quicker results.
At the end of the day, they all returned home with new ideas, new projects, new friends and stars in their eyes, probably dreaming and thinking (we hope) of a possible IT carrer, why not in the renown Sillicon Valley.
For the organizers (Oracle, Oracle Academy, Devoxx4Kids) it was a long and exhausting journey.
But as always, this is nothing in comparison to the smiles of the children, the "Thank You so much" of the parents and the tweet, re-tweet, re-re-tweet of the Professional Developers Community.
The story did not end after the event. On the Sunday, at the JavaOne 2014 Opening Keynote, some Devoxx4Kids children were invited on stage to talk about their experience and show some results of their work impressing thousands of professional Java developers and making their parents and the organizers even more proud of the accomplishment.
What a great team, wonderful collaboration and rewarding/inspiring life experience.
A big THANK YOU to everybody
See you next year for, we all hope, another Devoxx4Kids/Oracle Academy JavaOne/Oracle Open World 2015 combined children event.