As part of the Devoxx Belgium steering member, I'm helping to setup this amazing conference.
On Wednesday morning, I was preparing, together with my other steering friends, the registration setup and was mentally ready to break our scanning records of thousands of attendees when Stephan told me that I've had to attend the Opening Keynote.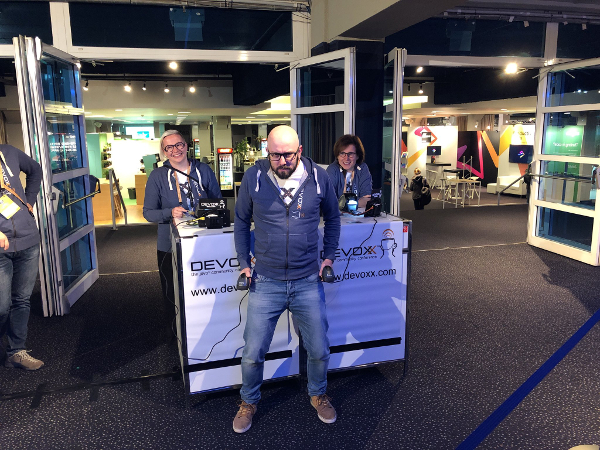 You can see here Mike being really concentrated with his new scanning technique 😉
Generally, for those scanning at the registration desks, it's impossible to attend the keynote due to the long queues of attendees and as I was on duty, I was kind of surprised by such late request from Stephan.
So after having found a replacement (the Devoxx Steering is an amazing family where everybody is ready, any time, to help each other) here I go to the opening keynote, not knowing what to expect.
Stephan started his talk and when he did thank Lightbend for sponsoring various aspects of the conference, he invited Markus Eisele (Director of Developer Advocacy at Lightbend) on stage. I did then ear Markus calling my name (he was just behind me) but I wasn't sure so I didn't move. Only when he arrived on stage, both Markus and Stephan asked me to join.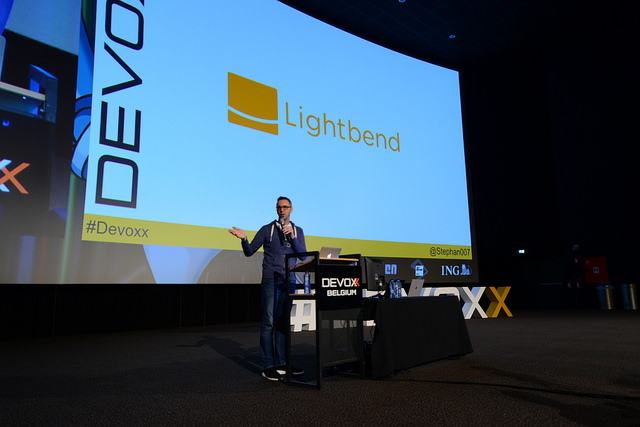 I didn't know what to expect when Stephan asked me to attend the opening keynote but I was going to discover it now !
What a surprise, Markus did open an enormous check of 5,000 $USD for Devoxx4Kids.
A donation from an amazing company (Lightbend) for an amazing initiative.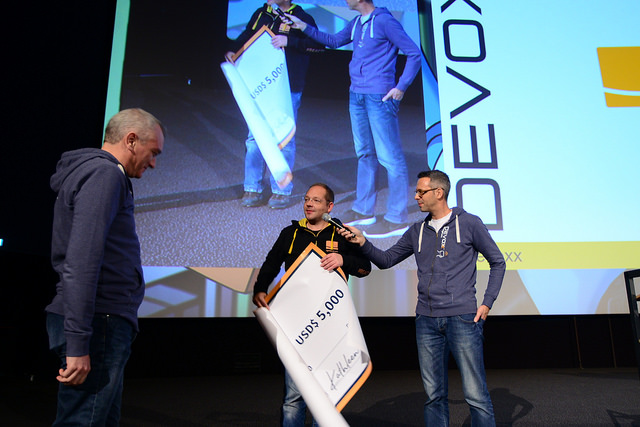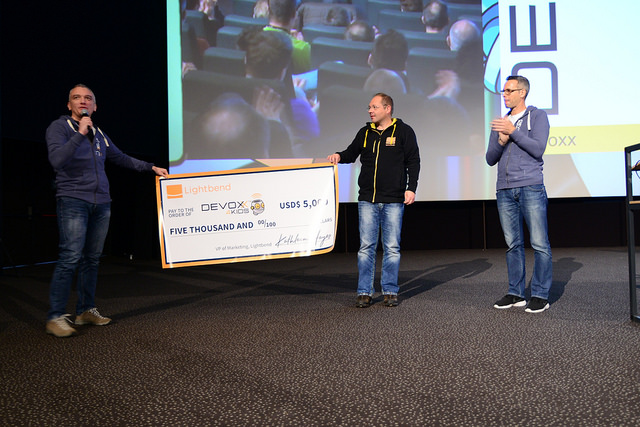 I would like to thanks Lightbend for this unexpected donation but also all the Devoxx4Kids teams worldwide that are spending their time to share their programming, IT passion to the children. I'm so proud of them and honoured to have them on board.
Daniel